"The basic elements so vital to Negro advancement can only be achieved by seeking redress from government at local, state and federal levels. To do this the vote is essential," stated James G. Clark, a former sheriff in Dallas County, Alabama, responsible for the violent arrests of civil rights advocates during the Selma to Montgomery marches of 1965.
Clark's formula to maintain white supremacy in the South was based on voter suppression.
But even to this date, after the milestone Civil Rights Act of 1964 – which prohibits discrimination of all kinds based on race, color, religion, or national origin – voter suppression and disenfranchisement continues to impact communities of color.
In Florida, voter suppression is alive and well, with 1.4 million permanently excluded from voting due to a prior felony conviction.
In my quest to connect our history with what is currently happening in Florida, I found myself speaking with Harry Lemon in the streets of Miami's Overtown neighborhood. Lemon, a black man born in 1930 in segregated South Carolina,  shared that in his days "Negros had a hard time, a lot of segregation and racism going on."
Lemon recently updated his voter registration card to ensure that he could vote in the upcoming elections. When I asked him what message he would give to his community, he said: "Get out and vote because if you don't vote, you can't choose nothing."
I then drove south for a couple of hours to Homestead, where I had the pleasure of speaking with Delores Bryant, a black woman born also in 1930 in Georgetown County, South Carolina. Her words echoed Lemon's memories of growing up in segregation.
"You talk about violence; I lived in the Carolinas. The klan would kill if they catch us out at night. They used to burn crosses in the churches. They don't care nothing about us," stated Delores.
Remembering the days of segregation, Lemon and Bryant acknowledged the progress we have seen in a generation, yet stressed that we have a long way to go to achieve equality for all.
"Young people got to wise up, get your behind up and go vote," stated Bryant.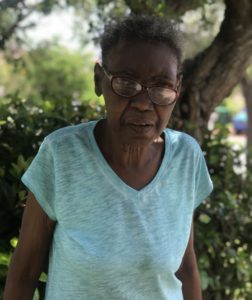 Determined to see what today's youth were facing, I interviewed young people in the Overtown neighborhood. They said they understood the message both Lemon and Bryant were giving about the importance of voting, but expressed frustration with the current system.
Of the 30 young people I spoke to that day, more than half expressed that they were unable to vote due to previous felony convictions, with youth as young as 16-years old already convicted. Some of them shared that they were arrested for carrying weed or driving with a suspended license, resulting in their removal from the voting process.
Lemon and Bryant remembered how state legislatures begin instituting a series of measures to keep black voters away from the ballot box. Literacy tests, educational requirements and lifetime voting bans for convicted felons were the rule. While literacy tests and other voting suppression tactics were wiped by civil rights wins of the 1960s, today, Florida still upholds the lifetime voting ban for convicted felons. This policy exploits Florida's criminal justice system, which is more likely to convict African Americans of felonies compared to whites who commit the same crime.
In fact, one in four black citizens in Florida is disenfranchised by this policy.
But Bryant thinks we must fight to win and hopes young voters claim their right to vote.
"If they keep fooling around, not voting and with this dumb president that they got, we all going to die and go to hell in a handbasket," stated Bryant.  "We must get up from those behinds and go vote."
This November 6, floridians will have an opportunity to be on the right side of history by voting for Amendment 4, the Voting Rights Restoration for Felons Initiative. Let's unite the vote in November to return the voting rights to 1.4 million Floridians who are currently disenfranchised.