I called my 84-year-old mom recently to tell her how amazing she is. I felt it was important for me to let her know – partly to try and undo the damage of something hurtful I'd said last year. 
While stressed about financial worries, I had told her that for a long time, I'd felt isolated from the family. My next question was if she was my real mother and to admit I had been adopted.
I thought she needed to carry my burdens both emotionally and financially. In large part, my feelings were a result of her confessing that I was an unplanned pregnancy. I held on to that even though she told me this at a very young age. Other factors also contributed to these feelings. I realize now it was a hard blow and it wasn't the right thing to say. She also asked for forgiveness during the recent call.
At the end of the conversation, I felt an even deeper appreciation for everything she has done. I knew taking care of three kids must not have been easy, especially without any outside support or resources. She balanced raising children and juggled everyday responsibilities, including cooking, cleaning, and laundry.
She called her mother or other family members for moral support on occasion. Her immediate family settled in New Jersey and Florida after leaving their home in Puerto Rico. We lived in New York City, and she could not afford to see them because of the costs of travel and childcare. I can't even imagine how alienated she must have felt. She also felt uncomfortable in a neighborhood in which English was the primary language and was unable to make new friends. But she made the most of it, mostly for her children's sake.
I'm sure all mothers, especially single mothers like myself, have felt hopeless or helpless at some point. I only wish our lawmakers and those who dictate policy in the public and private sectors demonstrated some sense of appreciation for the work of mothers — particularly the work that doesn't necessarily result in a paycheck.  
A day in the life of a stay-at-home mom in 1984
It was a typical Monday morning in the middle of October 1984 in New York City, deep inside the heart of the South Bronx. The loud noise from the honking cars, the roaring trains, and the steaming engines of yellow school buses awakened the entire neighborhood.
We lived in a two-bedroom apartment in a 20-story "project" building. Thick mustard linen drapes hung on steel hooks and helped block the sunlight.
That Monday morning, our family followed our typical school day routine. My siblings and I got ready for school. Mom took care of ironing our clothes, preparing breakfast, and shopping for dinner later in the evening.
My mom relied on her "cupones" — better known as food stamps in the 1980s, what we now know as SNAP benefits — to buy food. She was entitled to about $100 a month. She also received some cash assistance, which she used to purchase essential items like toilet tissue and cleaning products for the household. 
I was in fifth grade. We were preparing for "Career Day," an annual event that features military, navy, and hospital nurses to inspire students.
Our fifth-grade teacher, Ms. Cruz, reminded us that it was an extra special day and, as always, to keep our heads held high as we walked down to the auditorium from our classroom. We quietly made our way down the steel staircase. It was early in the morning, about 9 a.m. The weather remained cold throughout the day, so we kept our sweaters on. The steel rails I held while walking downstairs felt the shiver as well. 
The fourth and fifth graders waited in line to enter the grand auditorium. When we finally made it in, there were soldiers and men in fancy suits like the kind Dad wore on special occasions. They walked up and down the aisles of the auditorium. They gave their speeches on the same stage the students used for graduation, picture day, and performances. Some women, mainly nurses, but mostly men, represented the idea of work.
After their presentation, some of the cadets stopped by our classes to tell us their stories of success – but I don't recall any women telling their stories of being an at-home mom.
That afternoon, I waited patiently for three o'clock. It was time for mom to pick me up. We left hand-in-hand to pick up my sister and brother from their junior high school.
That evening, I had to write an essay for homework about our parents' careers or anyone who inspired us. I chose to write about my mom.
I wrote about how I viewed her and her role as a mother, a housewife, a nurse, a teacher, and a provider. My mom added the finishing touch and ended the essay with a Spanish phrase, "Ella es como una estrella que vela mis suenos," meaning "she is like a star that watches over my dreams."
The next day Ms. Cruz read our stories and chose some of us to recite them. Most of my classmates wrote about their dads, uncles, or brothers. They laughed when they heard I'd written about my stay-at-home mom. I cried with embarrassment, but now I feel proud to have written such a powerful essay.
Recalling the moment, I still had the impression that what my dad did was hard work — but it never occurred to me that my mother was the hardest worker in the family. I didn't truly appreciate the value of what it meant to be an at-home mom or the contributions she made to the household. Her unpaid labor went unnoticed.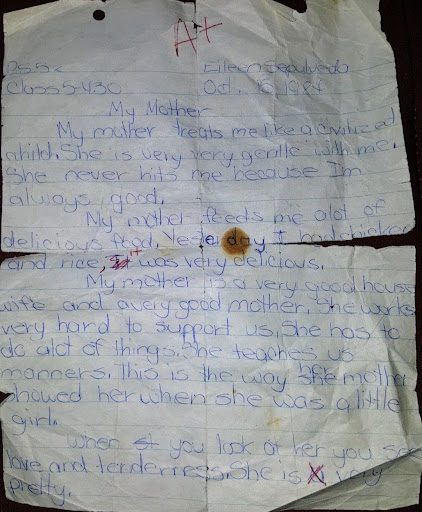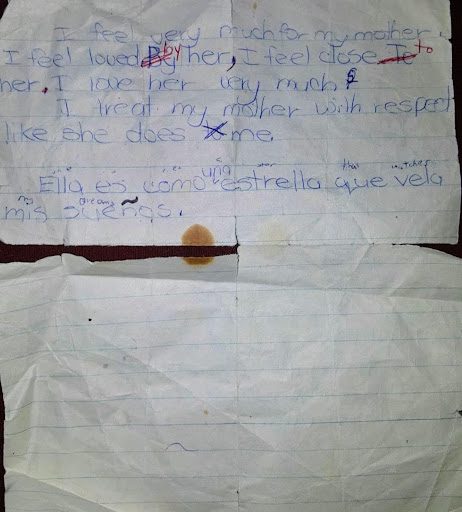 ***
I started working part-time at the age of 14, off the books, at a clothing store in the Bronx while attending high school. I wanted to be hardworking like my dad, which meant working outside the home. Except for the time I took off to give birth to my two children, I haven't stopped working since.
With hard work and sacrifices as a single working mom, I earned my Bachelor's degree after six years of college, while still working full-time as a dispatcher for 16 years.
With the continued support from my two sons, friends, and family, I finally got the courage to begin my career as a creative writer and freelance journalist. In 2018, I left the dispatcher position behind. Although my writing career has not taken off as quickly as I would have liked, I remain optimistic.
Since I took the big leap, I've held several jobs as a means to pay my bills and put food on the table. Despite being a working mother, I was rejected for benefits like SNAP and cash assistance because I did not meet the income requirements. These kinds of policies ignore all of the unpaid labor mothers contribute — the kind of work that provides not only for their families, but for their community. 
The challenges that virtually every community — and every family within that community — are facing during the aftermath of the pandemic highlight the many cracks in our safety net and the precarious, and sometimes nonexistent, support system upon which our most vulnerable citizens rely for survival. 
The pandemic also forced many women out of the formal workforce, and many still haven't returned because of childcare issues. Not surprisingly, mothers and caregivers bear some of the heaviest loads — expected to support everyone else even though they are often in dire need of supporting themselves. They spend a lot more time taking care of their families, possibly including their parents or other sick relatives in addition to their children. Expanded Child Tax Credits and Economic Impact Payments provided a glimpse into some ways to ease these burdens, but they were temporary.
Organizers push for policies to support mothers and caregivers
In late October, a Congressional briefing entitled Caregiving is Work: Supporting Mothers and Other Family Caregivers through the Worker Relief and Credit Reform Act and Beyond was organized as the result of efforts by The Global Women's Strike, a multi-racial network advocating for community and home caregiving, and Congresswoman Gwen Moore. In the briefing, women from around the nation – including grandmothers and single moms — spoke about the importance of the caregiver role. 
Congresswoman Moore spoke about the importance of the Earned Income Tax Credit and Child Tax Credit, which has helped many families, mostly mothers, rebuild their lives. It "cut child poverty in half," Moore said, adding that it also encourages and rewards work. A key part of Moore's plan is for lawmakers to modernize the Child Tax Credit to benefit unpaid caregivers as well as low-income students.
The briefing also focused on Guaranteed Income. Yesmine Holmes, a pregnant mother of three children under five years old, joined the Mother Up pilot program, which was launched in April by the Mothers Outreach Network based in Washington, DC. The organization works to assist Black mothers in creating financial stability for their families by providing support to women such as Holmes.
Holmes, who grew up in the foster care system, now receives $500 a month of guaranteed income through the program. Without family support like "a mom or dad," Holmes said child care is solely her responsibility. Recently, Holmes and her children moved into a home for the first time, thanks to the Guaranteed Income program.
My fight continues
I will continue to be a mom and a writer, although doing what I truly love doesn't pay half the bills in NYC. I will also continue advocating for a better system and a better understanding of the importance of women in society.
My experiences as a working parent and my recent reflections have given me a greater understanding and appreciation of my mother's sacrifices and the struggles she still faces. I now truly understand the value of being a full-time at-home mom, which I believe has been my toughest job yet.
Although November is designated as National Family Caregivers Month, I think that caregivers' unpaid work, especially that of single mothers, ought to be acknowledged, supported, and compensated every day of the year.