As I sat on the beautiful island of Puerto Rico for a retreat with fellow immigrant rights leaders from the Fair Immigration Reform Movement (FIRM), I couldn't help but be humbled and inspired by a movement led by some of the fiercest most dedicated women and people I am proud to call my colleagues.
On this Mother's Day, I salute us all.
Several of us are women who want it all – to lead in their communities and also hold their own family's well-being in their heart as they do some of the most challenging work of moving forward a vision of justice and dignity for our country.
Reflecting on what lies ahead for us, I am inspired by Puerto Rico, an island with a history of struggle and resilience, an island of contradiction and hopefulness.  The fight against historical oppression in its battle for independence has imbued the people of this island with a spirit of resistance and courage that permeates their soul and gives them the will to survive and move forward against all obstacles.
Mothers who work in movement are much like these islanders, often living expansive and soulful lives while managing the tensions between family and careers that challenge us each day to sustain some small piece of helping to build our country's consciousness and policy reform, and to ultimately support our communities' greatest aspirations and possibilities. We as mothers in movement work are doing all we can, yet it's still never quite enough.
As I celebrate and reflect on nearly 10 years of being a leader in the immigrant rights movement, I have some thoughts to share on raising a family while leading on the front lines of immigrant justice. I had spent another decade solely dedicated to raising my two wonderful boys as a stay at home mom. They are and will always be the nexus of my universe, and now having spent equal time on both sides of these experiences, I can attest that as leaders, as women, mothers, and colleagues we must be even more proactive in celebrating the special role of women who do" the work" of building community while also trying to juggle taking care of their families.
The role of mothers in movement work, solidarity work, and political movements is rife with contradictions. While on the one hand, we are investing so much of ourselves in an aspirational future to keep families together, we are also making very real sacrifices.  Many times, it's our own families who make sacrifices with us, and often their contributions go unseen. The over-consumption with community activities, and crisis are all too real for the families we serve. Far too frequently, we are spinning plates magically in the air to avoid letting either the work or the human beings we live with suffer.  My current reflections come after a decade of work in the challenging and worthwhile work of immigrant justice, and as my oldest turns 18. This has made me both nostalgic for the time I will never get back with my boys, and yet proud to set an example as a woman who has had the opportunity to work in a movement that has extended my family across Colorado and the country.
Mothers in movement work live impeccable but chaotic existences that have us chartering new territory and looking at the people we organize in a very special way. We look beyond the issues and see ourselves in them –  managing the complexities of life, the constant negotiations that are made in everyday life, the significant output of emotional energy to keep it all together.  But we don't do it alone; many of us have partners and families who are the noblest of people and who pick up where we leave off because they know how important the work we do is to us. Many of us also figure it out on our own, with years passing and our children suddenly alongside us for the journey into movement work that will also have impact in their own lives and in the community.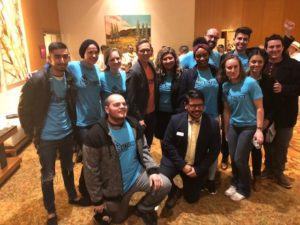 We deserve to know, spoken or unspoken, that for all the joys and tears of building a movement, leading a team or pushing harder because our communities deserve it and depend on us to do it, we should celebrate and honor the women who put it all on the line. The leaders within our movement are also navigating the same contradictions.   We organize whole people, with whole lives behind our campaigns as we carry out the tasks required to implement strategy. We organize whole people with beautiful, chaotic and demanding lives, just like our own.
How do we embrace the small moments of joy, laughter, and fun that many of us may forget to celebrate and participate in if we are not allowing ourselves to be full people?   We must reconcile these opposing tensions in order to truly win on all of our issues; we need the people in our immediate families to see us pull away from the work in healthy ways, and we need to observe and reflect on the direction of our own lives.  Justice to me means that no-one walks away feeling empty, and that our own children don't feel as if we weren't present in their lives.  Ultimately, they are the primary beneficiaries of the world we want to live in and create for them.  We need them with us in the fight as we strive to establish safe boundaries for ourselves and our families – an existence where we will not drown in the endless sea of tasks and moments of rapid response and crisis management that are part of movement work.
As Mother's Day approaches, I would encourage each and every one of you to wholeheartedly embrace, and joyously celebrate the integral meaning and spirit of what it means to be a mother – the maternity that nurtures all children, regardless of biological connection, age, gender, race, or ethnicity. Put that meaning and spirit into the day: Hug your children, respect and appreciate the mothers in your life in all their varying forms, connect with friends (and maybe some who are not so friendly).  It is the concept of mothering and its importance in the world that makes our leadership so distinctive, and is manifested in our various roles of mentor, comforter, helper, advocate, teacher, friend.  Balancing and exercising all of our conflicting responsibilities leads to satisfaction and pleasure in life, gives us the resilience to endure, and empowers us to make an impact on all the lives we interact with, and the cause of social justice that we are so vigorously promoting.