For 16 years, I was not allowed to visit my home country of Colombia. For 16 years, the only way I could travel back home was through the power of music.
I am a recipient of Deferred Action for Childhood Arrivals (DACA), the administrative relief from deportation which protects eligible immigrant youth from deportation.
Music has always helped me understand what was going on in different places, whether it was with my beloved family in Colombia, or across the world. My interest in human rights and migration has led me to being a student of musicians and songwriters who express the experiences of injustice, the joys of victory, and what is truly happening in our societies. And when we look deeper, at the roots of so much music, even the instruments and rhythms can carry stories of resistance in their origins.
There are many musical groups that have inspired me to express my reality and share the interaction of those identities inside a so-called democratic country. The power of music truly shapes the organizing work I do at Community Change and beyond.
Through a collective of musicians and cultural workers called Poder del Pueblo, I had the pleasure and privilege of bringing one of these bands, the Latin Grammy Award winning Los Gaiteros of San Jacinto, to Washington, D.C. during Labor Day weekend. We hosted them, spent time together and learned about how these winners of Best Folkloric Album, a group of mostly peasants and musicians, formed in the small rural province in the northern coast of Colombia, San Jacinto. The band uses their traditional Afro-indigenous sounds to bring an alternative to the violence that has hit Colombia for more than six decades. With their sounds, lyrics and laughter, the group shared how their music has been for centuries a powerful tool for building peace in Colombia – and now the world.
What is Gaita?
"Gaita colombiana" is the name of the traditional flutes and thus, the name "Gaiteros" for those who play them. There are three types of gaitas, which are the legacy of indigenous people. The "macho" or male has six holes, the "hembra" or female two holes and the "machiembrá" fuses both energies into one gaita and has six holes. These gaitas are accompanied by maracas, a small drum called "llamador" that keeps the upbeat, the "alegre" that accentuates and keeps the energy to resemble the gaitas and the "tambora", a lower frequency drum that serves as a low bass, like the heartbeat of the music.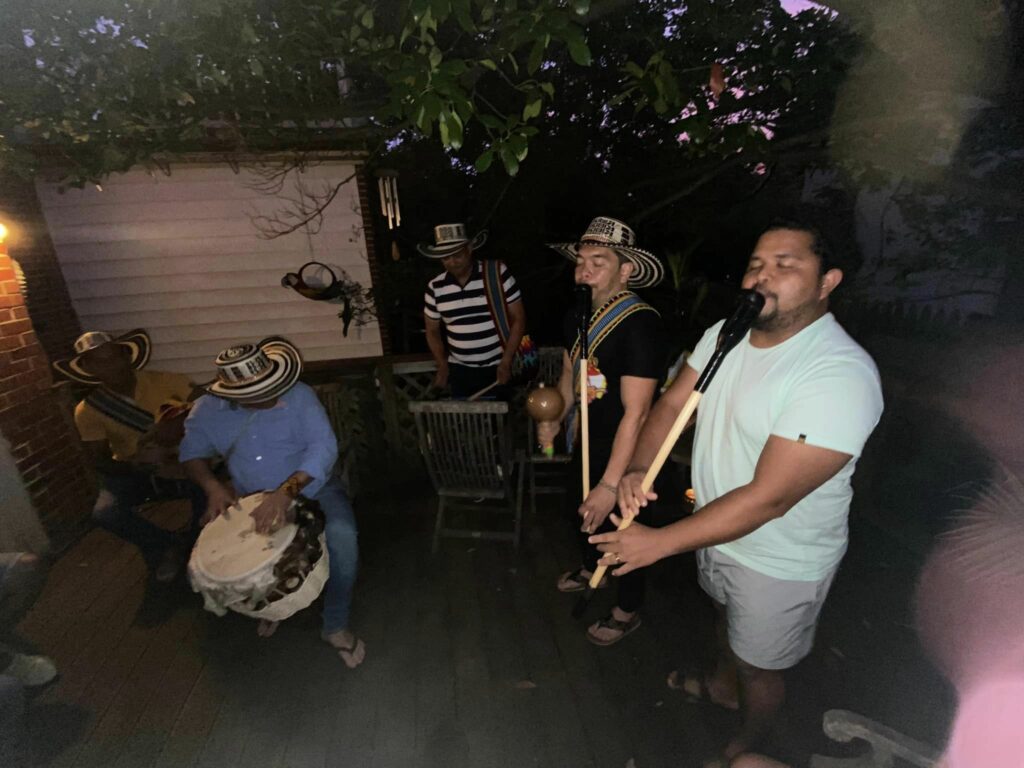 These instruments were created three centuries ago when both indigenous and Africans fled slavery and hid into the depths of a mountainous region called Montes de Maria, an area that covers three states in the northern coast of the Caribbean sea in Colombia.
The rhythms that are born from gaitas and tambores, are a true manifestation of the resistance of indigenous and African people coming together, protecting and learning from each other, in order to create powerful and hypnotizing styles of music that reverberate across Colombia to this day.
Three centuries later, these rhythms are now part of the musical DNA of a region. This region has seen violence for the last 60 years due demand for control of its rich soil where avocados, yucca, ñame roots, mangos and countless other produce have flourished for centuries. Armed groups started forcing peasants out and using their land for planting illegal substances, and, due to its strategic location, saw armed groups transport drugs in and out of the country from.
An Enduring Beat: The Living Legacy of Los Gaiteros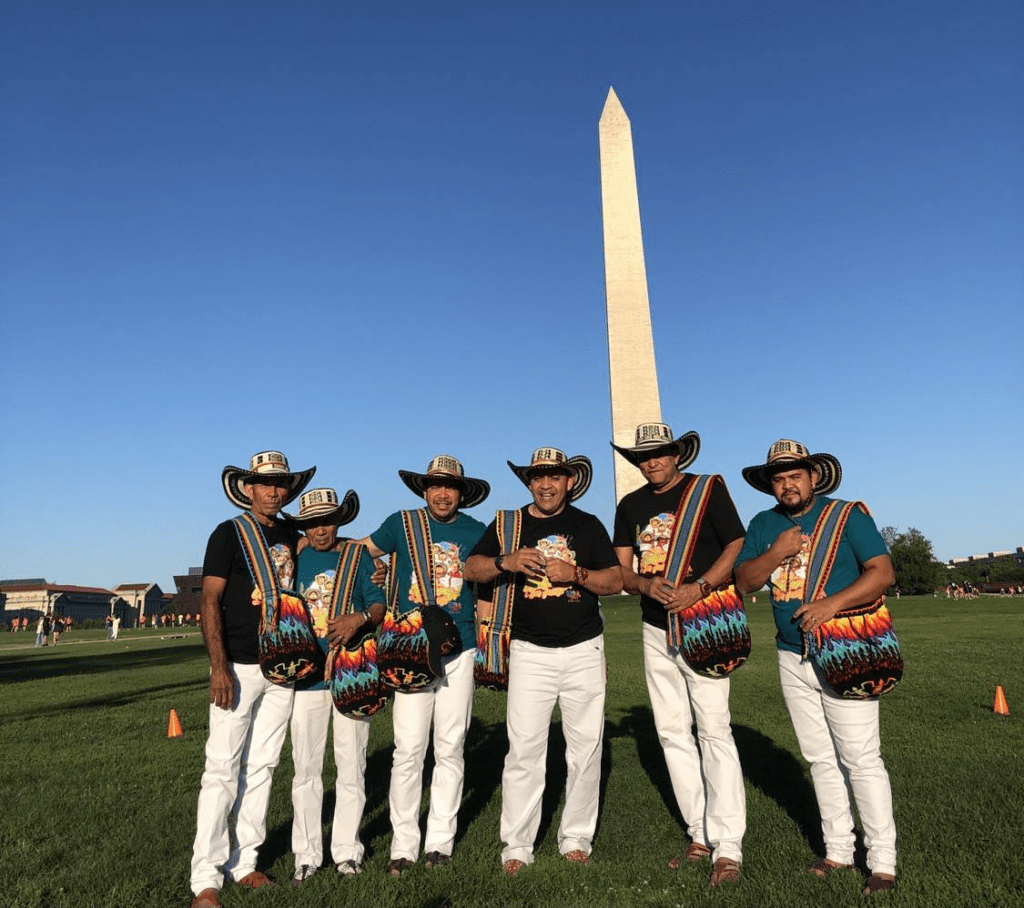 Even though Los Gaiteros come from a region that between 1985 and 2017, suffered from 3,197 selective murders and 117 massacres (according to the non-partisan National Museum of Historical Memory), four generations of musicians have survived the violence, and through their music, can continue to tell their experiences of pain, loss and hope for peace.
When asked about how the armed conflict affected the compositions of the songs, Maestro Rafael Rodriguez, the eldest of the band, responded by singing his song "Orgullo Colombiano."
In these lyrics, Maestro Rafa – as those that know him call him – shows a vision for a country in peace for the people and harmony with the land surrounding him. His songs represent the essence of peasants that have the hope to come back home, continue teaching music, and tilling the ground so that their families can eat. These people have suffered the worst of the armed conflict, but regardless, uniting indigenous people and Afro-Colombians, have organized so that their rights are respected and traditions can carry on.
Another amazing component of the way Gaita music continues building peace beyond Colombia,, is the way these maestros are so open to sharing what they know. The Gaiteros of San Jacinto have been mentoring not only their family members to play these rhythms, but countless other collectives and groups of aficionados across Colombia.Now you can hear this style of music all across the world. That is why someone like Luis Miguel Salcedo is able to be on their first international tour with the band. He started playing when he was 12 years old with his brother Ivan (also on the tour), and now are the lead Gaiteros for the band.
"It's a true honor, representing his country and most importantly, the tradition of my ancestors, whose voices and stories live through our music," said Salcedo.
When we asked Salcedo about the power of music in creating peace, he shared how he grew up around violence. He remembers seeing paramilitaries coming down from the mountains when he was in school, and hearing the stories of neighbors and villages close by being impacted by massacres.
This song reflects the constant connection with nature and how it serves as an inspiration to sing about a country with peace. Los Gaiteros de San Jacinto have brought incredible sounds of Gaita to the greater DC area, and the United States, and through the power of music, have planted seeds of hope for peace across the audiences they've touched.
We are grateful for the maestros for sharing so much with us, and hope they come back to the nation's capital.
For more music from Los Gaiteros de San Jacinto follow their Instagram and Facebook channels.
For more music and powerful concerts, articles and interviews follow Poder del Pueblo, on Facebook and Instagram.