"My name is Isaias and I am Undocumented and Unafraid." This is the usual greeting for many undocumented immigrants in meetings to assert our presence.
The whole room applauded in solidarity. I was on a panel this week with Sarai Portillo, the Executive Director of the Alabama Coalition for Immigrant Justice (ACIJ). We were surrounded by some of the most committed and powerful organizers, from folks that were at the original Selma March to Rev. William Barber who leads the National Poor Peoples' Campaign and Rev. Jesse Jackson and others.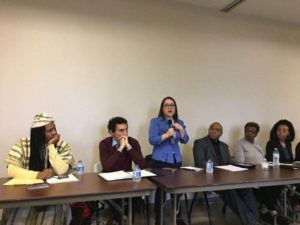 The 1965 Selma March led by Martin Luther King Jr. was tied to efforts to register people to vote in Alabama. At the time only 2% of the population was registered to vote.  The 54-mile march was supposed to go from Selma to Montgomery to protest the murder of Jimmie Lee Jackson, a young black demonstrator, by an Alabama state trooper.  The police quickly interrupted the march with violent attacks against demonstrators at the Edmund Pettis Bridge.  The bridge was named after a Confederate Brigadier General that led the KKK in the mid-1800s and became ironically the place where the movement was attacked by the police.
I had the honor of marching with organizer Nati ,who helped create a network of committees that fought against the 2011 anti-immigrant "show me your papers" law HB 56.  She was there because she wanted to be able to have a pathway to citizenship for 11 million people like her and so that her children don't have to fear being deported.
I was reminded of what so many movement elders have sacrificed for democracy.  I understood that the definition of citizenship goes well beyond the vote.  Walking through that bridge and remembering that people died for us, people bled for us and people and immigrant fathers and mothers have sacrificed their futures and lives so we can build a stronger democracy was a reminder of the power of our movement.  That for every step, every story and every voted cast, we are opening the path towards freedom for ourselves and those that come before us.