Growing up, most of my friends and neighbors did not know what the acronym ICE stood for. Immigration and Customs Enforcement, the agency which oversaw the detention and deportation of undocumented immigrants, was mostly an afterthought for most Americans.
As an undocumented youth however, the threat of ICE always made me feel anxious and fearful. I grew up worrying about immigration raids and the disastrous consequences that any random police encounter could potentially have on my family.

Under the Trump administration, ICE has become a household name, and not in a good way. What was already a ruthless agency is now unshackled and unhinged, with widespread coverage of its immigration raids across the country and arrests of parents recorded on their children's cellphone cameras.
What has previously been ignored is now apparent for all to see. ICE is a rogue agency, the actions of which greatly exceed its original mission and physically manifests Trump's worst rhetoric.
When you go to the ICE webpage, its "who we are" section reads as follows:
"U.S. Immigration and Customs Enforcement (ICE) employees protect America from the cross-border crime and illegal immigration that threaten national security and public safety. To carry out our mission, ICE focuses on legal and safe immigration enforcement, terrorism prevention and combating transnational criminal threats."
Yet some of the cases of undocumented immigrants targeted by ICE recently include a high school student who was days away from his graduation, a girl with cerebral palsy on her way to emergency surgery, and a Detroit man deported back to Mexico after living 30 years in the United States, who left behind two children.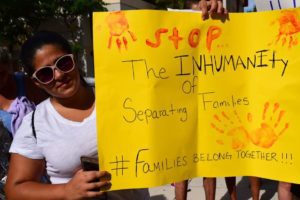 Groups within the immigrant rights movement have longed called for the abolition of ICE and they have largely been ignored or met with skepticism in the past. Yet the Overton window on this issue is opening in favor of the left as the conversation has entered the mainstream and more politicians take up the cause of abolishing the agency.
To be clear, abolishing ICE is not a radical idea. ICE has existed for 15 years, and in that time, it has become a bloated bureaucracy that has wasted government resources in deporting families and detaining children. If conservatives can't get behind the idea of doing away with the agency on purely humanitarian grounds, they should consider their ongoing fight against big government and what they decry as its out of control spending.
When ICE was formed in 2003, it was placed under the scope of the Department of Homeland Security (DHS), which instantly framed immigration as a national security issue rather than a positive force on the country. What followed was radically expanded federal surveillance powers that co-opted local law enforcement as an immigration crackdown tool under the guise of border and national security.
America has always had ebbs and flows in its deportation policies, yet it was under ICE when the central assumption that any undocumented immigrant is inherently a threat began to take hold.
Since then, ICE tactics have focused on intimidating immigrants to self-deport and to stop immigrating to the United States by executing the highly publicized raids and arrests of non-criminal undocumented immigrants that have received widespread coverage since Trump's election. Former ICE Director Thomas Homan describes this modus operandi perfectly when he said that if you are in this country without papers, "You should look over your shoulder, and you need to be worried."
As policy proposals to protect immigrants under TPS and DACA stall and Congress continues its gridlock, the call to abolish ICE is becoming increasingly important as activists move forward an alternative plan: If lawmakers won't do their job, then the agencies who are enforcing Trump's draconian immigration policies should be defunded and defanged.
That is at the heart of the abolish ICE movement – a push to severely weaken federal immigration enforcement that has become nothing more than a tool for ethnic cleansing for a white supremacist government that knows black and brown people will eventually become its electoral downfall.